Gorilla Trekking in the Volcanoes National Park is popular because Rwanda is considered by some to be the best place to see gorillas in Africa. The park is home to the intriguing but endangered mountain gorillas. Mountain gorillas are found in only 3 countries – Rwanda, Uganda and the Democratic Republic of Congo. The Volcanoes National Park covers an area of about 16,000 hectares and is found in the northwestern part of Rwanda. It consists of afro-montane forests, bamboo forests, savanna grassland, vast swamps and 5 volcanoes (Bisoke, Gahinga, Muhabura, Sabyinyo and Karisimbi). Mount Karisimbi is one of the four tallest mountains in Africa. The Volcanoes national park is home to the spotted hyena, buffaloes, elephants, bush bucks, duikers and golden monkeys among many other mammals
Gorilla trekking is the most popular tourism activity in the Volcanoes National Park and the chances of seeing mountain gorillas is very high. Gorilla trekking at the Volcanoes National Park involves hiking through dense bamboo forests and steep mountain slopes in search of one of  the gorilla families in Rwanda. The final encounter with the primates is considered one of the most exciting and memorable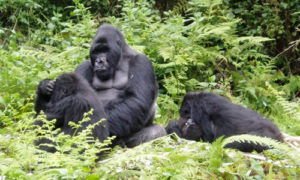 Wildlife encounters in Africa. To have the best of both worlds, visitors can also cross  the border to see the gorillas in Uganda in what is a known as double gorilla trekking. Some tourists even opt for tripping gorilla trekking where they also visit the gorillas in Virunga National Park of Congo. An even more exciting experience is seeing mountain gorillas and Eastern Lowland Gorillas in Kahuzi Biega National Park of Congo. Tracking gorillas is challenging but being able to finally see the gorillas is the ultimate wildlife experience.
One must book a Rwanda gorilla permit in advance so as to be sure of getting a spot for gorilla tours on a given date. Gorilla permits can be very difficult to secure during peak seasons like June to September and December to March. Gorilla permits in Rwanda currently go for $1500 – but that is only a fraction of the overall price of gorilla trekking. It is important to note that part of the money collected from gorilla permits go to support gorilla conservation efforts and community programs. Booking permits can be done through your tour operator or directly through the Rwanda Development Board. In order to book the permit, passport details must be presented to the Rwanda Development Board. There are 10 gorilla families available for trekking and only 8 people can visit a particular group in a day. This implies that there are only 80 gorilla permits available per day for the various habituated gorilla groups.
How is gorilla trekking in the Volcanoes National Park like?
Gorilla trekking in the Volcanoes National Park starts with a briefing from the park authorities and Rangers at around 7:30am. During the briefing, participants are divided into groups and assigned to a particular gorilla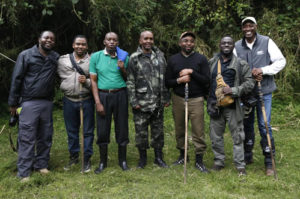 family. The less fit hikers are assigned groups which are closer to the park offices. At 8:00am, the park Rangers lead the group to search for the gorillas. As already noted earlier, gorilla trekking in Volcanoes National Park Rwanda offers you 10 habituated groups/families to choose from. Regardless of which group you eventually get, you will find that watching mountain gorillas is breathtaking. You could spend hours just watching the little ones roll around and play. Mountain gorillas are always playful and quite curious. Some may walk right up to you but with no harm intended. While with the gorillas, it's important to listen to instructions from your Guides and to always stay calm. Never make sudden movements. Gorilla tracking in the volcanoes national park can take between one to six hours depending on the gorilla group you are assigned and their specific location on the day of the trek.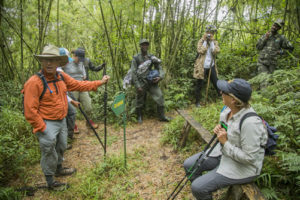 Note: Hire a porter or two if you have extra heavy luggage or equipment. Porters are available at the starting point. Many of these porters were once poachers but have now embraced gorilla conservation programs. The income earned from offering their services keeps them from going back to their former vice. If you are planning to travel with your parents, you might want to read about gorilla tracking for older people. The services of porters costs between $10 and $15. You will need suitable hiking boots, thick cotton gloves and a raincoat. Your Tour Company should be able to send you a comprehensive packing list and rules for gorilla trekking.
How to prepare for Gorilla Trekking in Volcanoes National Park
Prepare in advance physically and mentally by taking long walks in nearby forests.
Acquire suitable footwear to navigate through the sometimes challenging terrain.
Come knowing it may rain heavily.
Pack enough drinking water and light snack.
Give tip to the park Rangers and guides whenever you can – They do a lot to make your gorilla tracking adventure worthwhile. The recommended tipping rate is between $10 and $15 or its equivalent in the local currency.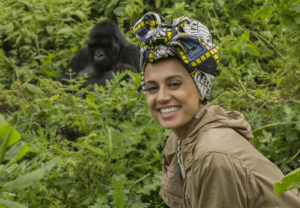 Like all activities, gorilla trekking in the Volcanoes National Park has rules and regulations. You must be 15 years and above to go near the primates. The reason why children aren't allowed near the gorillas is because they tend to carry transmittable diseases like flue and cough which can be transmitted to the primates. It is one of the reasons why tourists are required to share their passport details before booking a trip. Mountain gorillas are endangered and only 1,000 remain in the wild. All steps are taken to protect them from diseases. Anyone with a communicable disease cannot be allowed near the primates. Mountain gorillas are not immune to some of the infections we carry as humans. There are other rules and regulations for gorilla trekking but they can be found in another article.
Note: Many visitors to Rwanda love combining gorilla trekking with 2 days golden monkey tracking, cultural visits and a hike to one of the volcanoes within the volcanoes national park – especially mount Karisimbi and Bisoke. Combining Mount Karisimbi hiking with gorilla trekking in Volcanoes National Park would require considerable determination and fitness to complete. The best time for gorilla trekking in Rwanda is during the months of June, July and August.
Other activities apart from gorilla trekking
Apart from gorilla trekking, there are other activities that one can take part in while at the Volcanoes National Park in Rwanda and in other parts of the country. Throughout your travel, you will notice that the country has beautiful landscape consisting of  hills and mountains. You can combine gorilla trekking at the Volcanoes National Park with the following activities:-
Golden Monkey trekking: The Volcanoes National Park is home to the endangered Golden Monkey. These beautiful primates live in the same areas as the mountain gorillas. They survive on bamboo shoots, insects and will occasionally raid farms for potatoes. Golden Monkeys are very playful primates with their only real enemies being man and the African eagle. Golden monkeys are also found in Uganda and the Democratic Republic of Congo. Tracking mountain gorillas starts at the same time as golden monkey trekking and permits cost $100. Golden monkey tracking in Rwanda is not as strenuous as gorilla trekking because the monkeys live in the lower slopes of the volcanoes.
Visiting the grave of Dian Fossey: Dian Fossey is considered to be one of the greatest primatologists of all time because of her extensive research and work with mountain gorillas from 1969 till her death in 
the 1980's. She let the world know about the mountain gorillas and fought hard to end poaching. She introduced new approaches to habituating mountain gorillas by learning their mannerism, staying in their midst and gaining the acceptance of the dominant Silverback. This is quite remarkable because the mountain gorillas she worked with had grown to see all humans as a threat. Their numbers had reduced because of poachers and pet traders/traffickers.
When trafficking of baby gorillas went out of control, Dian Fossey stopped focusing solely on research and also took up gorilla conservation. This is where her problems started eventually leading to her murder. Hiking to the grave of Dian Fossey is one way of paying homage and learning about the work of this great primatologist.  Gorilla conservation initiatives were pioneered by Dian Fossey to save the critically endangered mountain gorillas. You can learn more about how to visit the Dian Fossey grave by checking out our 3 Days Gorilla tour in Rwanda and Dian Fossey Hike package.
Visit the Musanze Caves: The Musanze caves are one of the historical sites in Rwanda. The caves are found close to the park in the town of Musanze. The Musanze caves are believed to be over 65 million years old. There are 31 entrances to the caves with tunnels extending to over 20 kilometers. The caves are adjacent to Mount Sabyinyo and Bisoke. The caves are believed were formed when lava spewed out during the formation of the two volcanoes and later cooled. The Musanze caves were used by the local kings of Rwanda to hide and regroup during tribal wars with neighbors. You can hire an experienced Guide to take you to the caves and share with you their history. The cost of exploring these caves is $50.
Hiking one of the Volcanoes: If you are fit and ready for a challenge then you should look no further than the Virunga Volcanoes. The most popular volcanoes are Bisoke and Karisimbi. Karisimbi Volcano Hiking takes two days and provides for a truly great experience. Mount Bisoke Hiking takes only one day for a chance to view the massive crater lake at the summit. Both these mountains will offer you great views of the Virunga ranges, national parks, the Rwenzori Mountains and the borders of three countries. Hiking mount Bisoke and Karisimbi starts at 7:00 am with briefing from the park offices. After the briefing a Guide is assigned to lead the team.
Birding: The Volcanoes National Park is one of the important birding areas in Rwanda with about 200 recorded species of birds. Of these 13 are endemic to the area. The most sought after bird is the Rwenzori turaco and the handsome francolin. They are some of the most beautiful birds you will ever encounter. Other species include the archer's ground robin, collared apalis, dusky crimson wing, Grauer's rush warbler, red faced woodland warbler, Rwenzori double collared sunbird and the strange weaver.
Visit the Iby'iwacu Cultural Village: The Iby'iwacu cultural village is the largest and most visited cultural Centre in Rwanda. It is located close to the Volcanoes national park. The Centre was opened to showcase Rwanda's diverse culture and allow the community living close to the park benefit from tourism. Many of the performers were one poachers and is why the center is also referred to as the Gorilla Guardians Village. While at the Iby'iwacu Cultural Centre, tourists can take part in cultural performances like dance, drama and storytelling. You will learn how a traditional Rwandan home was organized and be given a chance to taste some of the local food and alcoholic drinks. There are even local medicine men who are ready to share information about some of the traditional herbs used for treating common human ailments.
Visiting the Genocide Memorial center in Rwanda: Rwanda has several genocide memorial sites spread across the country but the one in Kigali is the most visited. The Museum will enable you get a complete understanding of the events that happened in Rwanda before and immediately after the 1994 genocide were about one million people were killed.  If you are not satisfied with this museum, you can also visit the former Kings palace and the National Museum in Butale to get more facts about the tragic event.
Track Chimpanzees in Nyungwe Forest: Nyungwe National Park is one of Rwanda's key tourist attractions. The park has the oldest and largest afro-montane forest in the world. Visiting the park allows one to spot several primates including chimpanzees. If you are on a primate's safari, this is one place you don't want to miss out if you want to have the complete package. Apart from Chimpanzees, you can spot Colobus Monkeys, Vervet Monkeys, Baboons, golden monkeys among others. Nyungwe forest is the best place to track chimpanzees in Rwanda. The park authorities also organize nature walks, birding and walking on top of tree canopies.
Visit Lake Kivu: In between your Rwanda safari, you want to relax and enjoy the beautiful African sun in an amazing atmosphere. Lake Kivu provides the answer. It is one of Africa's great lakes and shared between Rwanda and the Democratic Republic of Congo. Lake Kivu is excellent for fishing, island hopping and swimming. There are stories of methane gas that could explode underneath the waters but that shouldn't worry you considering how beautiful the lake is.
Game drives at Akagera National Park: For a complete wildlife experience in Rwanda, visiting Akagera National Park is an excellent decision. It is Rwanda's only safari park and its 3 hours' drive away from Kigali. It might not be as large as the national parks in Kenya or Tanzania but you will come out having since all of Africa's big five mammals.
Other activities: Apart from the main activities already discussed, there are also the less known ones like visiting the main market in Ruhengeri for local Rwandan fabric, visiting local village projects, visiting local homes to taste some local food or drink locally made beer. Those who want a quiet place with amazing scenery can visit the twin lakes Burera and Ruhondo. I shouldn't forget to mention the Congo Nile trail. You can even combine gorilla trekking in Rwanda and a safari in Masai Mara in Kenya.
Accommodation facilities during gorilla trekking at the Volcanoes National Park
There are several high quality lodges close to the Volcanoes national park that can be used by tourists during their time in the park. The lodges offer ultra-luxury, luxury, mid-range and budget facilities. The final decision depends entirely on ones budget. The most popular Luxury hotels include Bisate Lodge, Five Volcanoes Boutique Hotel, One and Only Gorilla Nest Lodge, Sabinyo Silverback Lodge and Virunga Volcanoes Lodge. Five Volcanoes Lodge is arguably the most pocket friendly of the luxury hotels in the Volcanoes National Park. They have a VIP room which can be offered to guests as surprise during certain months of the year. Sabyinyo Silverback lodge offers excellent views of the Virunga Volcanoes. If you want the ultimate luxury lodge, then you should consider Bisate or One and Only Gorilla Nest.
The best Mid-range lodges are Da Vinci Gorilla Lodge, Mountain Gorilla View Lodge and Lebambou Gorilla Lodge. Davinci Lodge stands out for its five spacious cottages and tasty international dishes.  For the best views of the Virunga Volcanoes and park, you might want to consider Mountain Gorilla View Lodge. If you are a budget traveler, then Virunga Hotel, Gorilla Solution Lodge, Villa Gorilla, Hotel Muhabura, La Palme Hotel or Gorillas Volcanoes Hotel would be perfect. Gorillas Volcanoes Hotel can take large groups considering it has 31 comfortable rooms. Villa Gorilla Lodge is an excellent choice for travelers who wish to stay close to the park offices. La Palme Hotel on the other hand is noted for its excellent restaurant and local Rwandan dishes.  If most of the good budget hotels are booked (during peak season), you should consult Kinigi Guesthouse. They have many self-contained rooms that are of good quality.